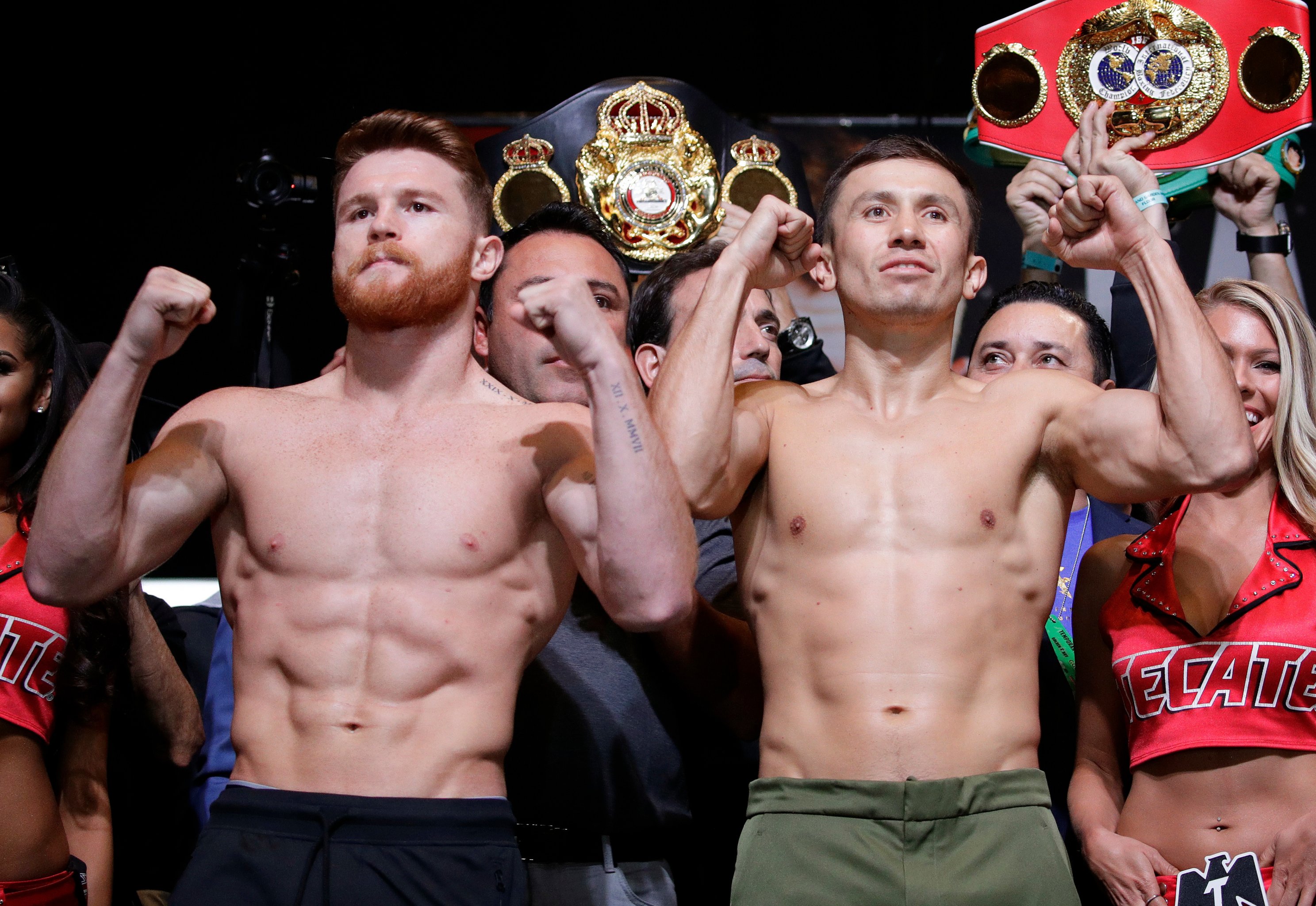 A trilogy fight between Canelo Alvarez and Gennadiy Golovkin seems less likely after Alvarez and his trainer expressed Friday that he wants to remain at super middleweight after his Dec. 19 fight against Callum Smith and that his priority is to unify the division.
Alvarez is currently a secondary titleholder in the 168-pound division.
"We are happy with this great challenge, and winning this fight is the start to unify all the belts at 168 pounds," Eddie Reynoso, Alvarez's trainer, told ESPN. "Callum Smith is one of the best at 168 pounds. He just won the [World Boxing Super Series] in his division as well. If you believe you are the best, you should show it fighting the best. That's why we choose to face Smith and no other fighters who really don't have this level of success."
As long as Alvarez keeps winning at super middleweight, getting the fights to unify the division shouldn't be too difficult. Smith has the WBA version of the belt, Billy Joe Saunders has the WBO title and Caleb Plant owns the IBF title. Saunders, promoted by Eddie Hearn's Matchroom Boxing, and PBC's Plant were candidates to face Alvarez before Smith took the spot. The WBC's belt is vacant.
If Alvarez wants to make that a priority, a third fight with Golovkin would likely have to wait unless Golovkin wins one of the super middleweight titles.
"We all know that the only fight Golovkin wants, maybe to retire after, is the fight against me," Alvarez said. "We were in talks with Golovkin before the pandemic started, we were in talks to make a fight this year, but unfortunately this whole pandemic issue happened and all that was canceled.
"But right now the most important thing, what we have in mind, are other objectives. The first is Callum Smith, and as Eddie said, we want to unify the titles at 168 and continue making history. We will see about Golovkin later."
When Alvarez parted ways with longtime promoter Golden Boy in November, it freed him to negotiate fights with any promoter, making it easier for him to get unification fights against the other titleholders.
"Being a free agent, the most important thing is we can do fights with boxers associated with different promoters," Reynoso said. "We have a very good relationship with Eddie Hearn of Matchroom, with Al Haymon of PBC, with Top Rank's Bob Arum, so we are open to working with any promoter who has a boxer where we can put up a good fight. In this case, Hearn has Smith, Saunders, Golovkin. On the other hand, Haymon has Errol Spence Jr., who has said he wants to fight Canelo, and also David Benavidez."
Alvarez said he considers Smith, ranked by ESPN as the No. 1 super middleweight, as a dangerous opponent. He said he knows a victory would add to his legacy.
"Smith is a great opponent, the best at 168 pounds," Alvarez said. "He's a tall, strong opponent that motivates me a lot and one that, despite everything that happened in 2020, will allowed me to close the year with a flourish."
ORIGINAL POST: https://www.espn.com/boxing/story/_/id/30451717/canelo-alvarez-downplays-gennadiy-golovkin-trilogy-wants-unify-168-pound-division
Noel Galang – Kamao TV