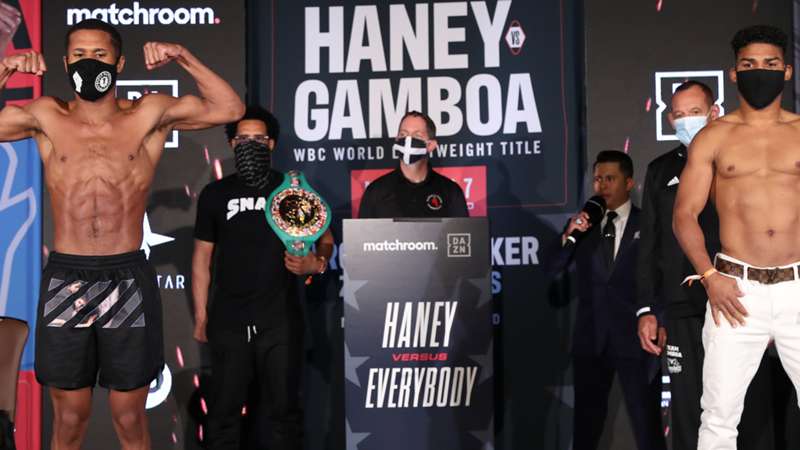 Easy work for "The Dream," as he defended his WBC lightweight title Saturday night, before expressing interest in fighting unified lightweight champ Teofimo Lopez next.
Devin Haney didn't produce the sensational highlight and statement that he was looking for.
However, "The Dream" thoroughly dominated Yuriorkis Gamboa to cruise to a unanimous decision and defend his WBC lightweight title Saturday night. Judges at the Hard Rock Live at the Seminole Hard Rock Hotel & Casino in Hollywood, Florida had it 120-107, 120-107 and 118-109 all in favor of Haney, who flexed superior boxing skills on Gamboa in the near shutout.
"I thought I put in a world-class performance," Haney told DAZN's Chris Mannix following his title defense, which improved his record to 25-0 with 15 KOs. "Of course, I wanted the knockout, but he was a crafty veteran, he was doing a lot of holding, trying to survive."
Days shy of turning just 22, Haney immediately set the tone against Gamboa by asserting his jab and alternating its placement between the body and head. That early strategy led to Haney opening up his offense and letting loose with big right hooks that blasted Gamboa across the jaw over several sequences in the fight. Those power shots paved the way for Gamboa to resort to holding and going into survival mode. Haney unleashed three- and four-punch power combinations looking for a knockout in the 10th round to the point where Gamboa excessively held the champion in the 11th and was penalized a point by the ref for it.
Haney tried to once again hunt for the KO in the 12th, but time ran out. He didn't get the knockout highlight like Gervonta Davis did last week against Leo Santa Cruz or against Gamboa last December, but Haney did deliver a boxing clinic that should set up higher stakes.
"I showed that I'm here and I'm not going anywhere," Haney continued saying after the fight. "Fighting someone like Gamboa was a stepping stone, but I'm here for the big fights. I want to make the biggest fights happen to bring the best out of me."
He added: "There's a lot of big fights in the lightweight division. Teofimo Lopez is the one with the rest of the belts, so that's the main fight that I want to make happen."
ORIGINAL POST: https://www.dazn.com/en-US/news/boxing/devin-haney-vs-yuriorkis-gamboa-live-updates-results-and-highlights-from-the-full-card/1xhg95jmmzlde1fnyr2crtx0d9
Noel Galang – Kamao TV