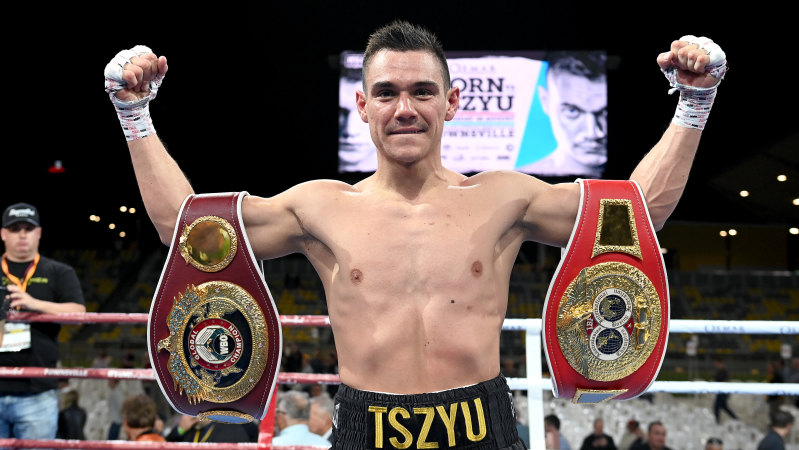 Legendary fight promoter Bob Arum has described Tim Tszyu as "the real goods" and believes the new star of Australian boxing is a genuine chance of winning a world title next year.
Tszyu will turn his attention to international opponents after his comprehensive technical knockout victory over Jeff Horn in Townsville on Wednesday night. The flawless performance has piqued the interest of matchmakers around the globe and opportunities are set to present themselves to allow Tszyu to follow in the footsteps of his famous father, world champion Kostya.
Top Rank boss Arum is one of the most influential promoters in boxing history courtesy of a client list that has included Muhammad Ali, Oscar De La Hoya, Roberto Duran, Joe Frazier, George Foreman, Marvin Hagler, Sugar Ray Leonard, Floyd Mayweather jnr and Tyson Fury.
Arum made a lucrative bid to have Tszyu on his books, but the Australian instead opted for local promoter Matt Rose. Having co-promoted fights featuring Kostya, Arum ensured the Tszyu-Horn event was beamed across the US on ESPN Plus, giving Tszyu jnr a huge platform to announce himself.
Arum was impressed with what he saw as Tszyu schooled the far more experienced Horn.
"He looks terrific, he looks like he's the real goods," Arum said. "It's like race horses; sometimes you can tell the colt is going to be good because the sire was good.
"It was on ESPN plus, the streaming service of ESPN, which now has 11 million subscribers.
"He looked really good.
"I talked to Matt, his manager and promoter, and he said he wanted him to fight again before the end of the year in Australia and then he would bring him over to the United States."
Tszyu has now become a bankable star. His fight against Horn attracted almost 100,000 pay-per-view subscribers, while more than 157,000 tuned into the Herald's blog to follow the action. The bout was also streamed to a huge audience in Russia on Match TV, raising the prospect a fight being staged there in the future. Yekaterinburg, a sports-made region about 350 kilometres from Kostya's home town of Serov, has expressed an interest in hosting a bout down the track.
Arum said comparisons with Kostya were inappropriate, but rated Tim every chance of becoming a world champion.
"There's no mistaking the resemblance," Arum said.
"Kostya Tszyu was a tremendous fighter. You can't make comparisons. Kostya was fighting at a much lower weight. I hate to make comparisons between fighters in different eras, no less the father and the son.
"[A world title is possible], but let's not jump. He's still a baby and needs a little bit more schooling.
"But I would think he's about a year away. Probably by the end of next year he will be in a position to compete for a world title with a real good chance to win."
Having conquered the best in Australia – Tszyu's scalps now include Horn, Jack Brubaker and Joel Camilleri – the 25-year-old wants to take on the world's best. The Tszyu camp has earmarked Englishman Kell Brook and Cuban Erislandy Lara as potential future opponents, but the coronavirus outbreak is a complicating factor due to the impact on travel restrictions.
"There's no safer place in the world than Townsville to put on a fight with a crowd and they delivered in spades in terms of the stadium and the production," Tszyu's manager, Glen Jennings, said.
"We would love to go back and if we can get someone of a high calibre, that is high on our agenda.
"If a world title opportunity should come up not too far down the track, Matt Rose and our team will be working hard to get it in Australia."
ORIGINAL POST: https://www.smh.com.au/sport/boxing/legendary-promoter-arum-backs-tszyu-to-win-world-title-next-year-20200829-p55qi7.html
Noel Galang – Kamao TV